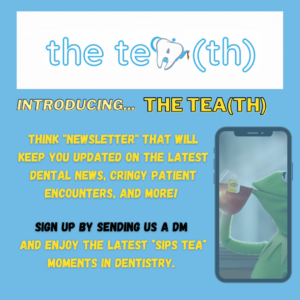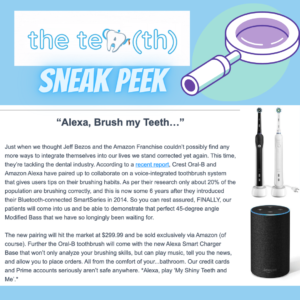 You look thirsty for some tea… 👀
𝔹𝕦𝕥 𝕘𝕦𝕖𝕤𝕤 𝕨𝕙𝕒𝕥!? 𝕎𝔼 𝔾𝕆𝕋 𝕐𝕆𝕌!
Introducing…. The Tea(th) ☕️- if you don't get it, say it slowly.
Think of a weekly newsletter that delivers the latest dental news, cringe patient encounters, and more…The greatest part of it all, it's presented in short bite-sized blurbs that is great for any busy dental student and dentist. Mainly because…ain't nobody got time to real full articles these days. 😅
𝗗𝗠 𝗨𝗦 𝘆𝗼𝘂𝗿 𝗲𝗺𝗮𝗶𝗹 𝗮𝗱𝗱𝗿𝗲𝘀𝘀 𝘁𝗼 𝘀𝗶𝗴𝗻 𝘂𝗽 𝘁𝗼 𝗿𝗲𝗰𝗲𝗶𝘃𝗲 𝘆𝗼𝘂𝗿 𝘄𝗲𝗲𝗸𝗹𝘆 𝗻𝗲𝘄𝘀𝗹𝗲𝘁𝘁𝗲𝗿 𝘀𝘁𝗿𝗮𝗶𝗴𝗵𝘁 𝘁𝗼 𝘆𝗼𝘂𝗿 𝗲𝗺𝗮𝗶𝗹. Please Comment and Share this post with someone who would love this!
Enjoy the latest *𝐬𝐢𝐩𝐬 𝐭𝐞𝐚* 𝐦𝐨𝐦𝐞𝐧𝐭𝐬 𝐢𝐧 𝐝𝐞𝐧𝐭𝐢𝐬𝐭𝐫𝐲! Cheers!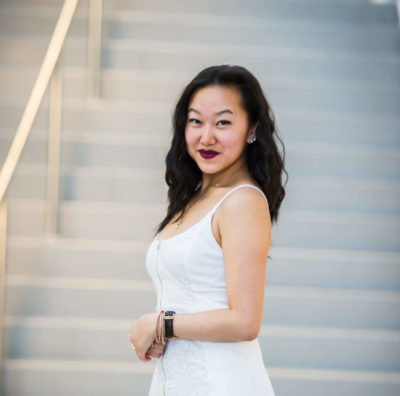 I am on the Thought Leaders Team! I am specifically involved with bringing in valuable resources to dental students through creative social media content.