𝐀𝐭𝐭𝐞𝐧𝐭𝐢𝐨𝐧: 𝐀𝐥𝐥 𝐃𝐄𝐍𝐓𝐈𝐒𝐓𝐒!
Did you know that most dental students still need to collect real teeth for pre-clinic?
Here's how you can help!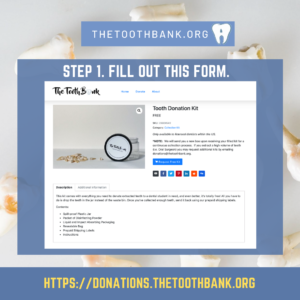 1) Fill out this form- https://donations.thetoothbank.org/product/tooth-donation-kit/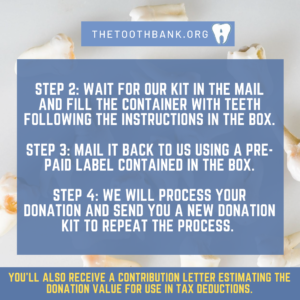 2) Wait for your kit in the mail and fill the designated container with teeth.
3) Mail it back to us using a pre-paid label in the box.
4) We will process your donation and send you a new kit.
𝔹𝕆ℕ𝕌𝕊: 𝕐𝕠𝕦 𝕨𝕚𝕝𝕝 𝕒𝕝𝕤𝕠 𝕣𝕖𝕔𝕖𝕚𝕧𝕖 𝕒 𝕔𝕠𝕟𝕥𝕣𝕚𝕓𝕦𝕥𝕚𝕠𝕟 𝕝𝕖𝕥𝕥𝕖𝕣 𝕖𝕤𝕥𝕚𝕞𝕒𝕥𝕚𝕟𝕘 𝕥𝕙𝕖 𝕕𝕠𝕟𝕒𝕥𝕚𝕠𝕟 𝕧𝕒𝕝𝕦𝕖 𝕗𝕠𝕣 𝕦𝕤𝕖 𝕚𝕟 𝕥𝕒𝕩 𝕕𝕖𝕕𝕦𝕔𝕥𝕚𝕠𝕟𝕤!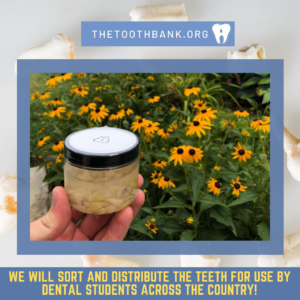 We will sort and distribute the teeth for use by dental students across the country!
𝗜𝗳 𝘆𝗼𝘂 𝗸𝗻𝗼𝘄 𝗮 𝗱𝗲𝗻𝘁𝗶𝘀𝘁 𝘄𝗵𝗼 𝗺𝗶𝗴𝗵𝘁 𝗯𝗲 𝗶𝗻𝘁𝗲𝗿𝗲𝘀𝘁𝗲𝗱 𝗶𝗻 𝗱𝗼𝗻𝗮𝘁𝗶𝗻𝗴 𝗲𝘅𝘁𝗿𝗮𝗰𝘁𝗲𝗱 𝘁𝗲𝗲𝘁𝗵 𝘁𝗼 𝗱𝗲𝗻𝘁𝗮𝗹 𝘀𝘁𝘂𝗱𝗲𝗻𝘁𝘀, 𝗖𝗢𝗠𝗠𝗘𝗡𝗧 𝗕𝗘𝗟𝗢𝗪!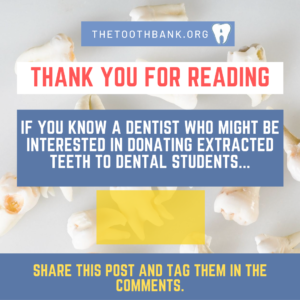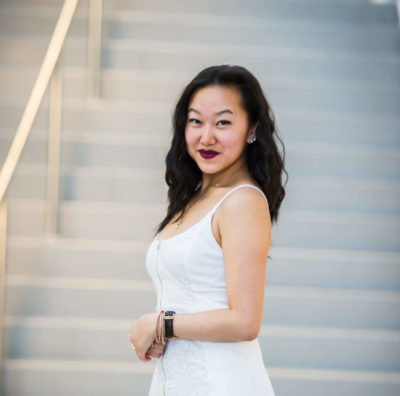 I am on the Thought Leaders Team! I am specifically involved with bringing in valuable resources to dental students through creative social media content.